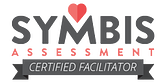 You'll receive counseling from a Gottman Method Level 2 Trained Therapist
Find out more about the best-researched and highly respected method of couples therapy at gottman.com
You've spent hours pouring over bridal magazines and thousands of dollars on the venue with all the trimmings. The wedding is all planned, now how about the marriage? This is an exciting time in your life. Make sure you take time with a qualified counselor for you and your spouse-to-be to go over your stances and perspectives on a range of topics, including:
Money
Sex
Time
Friends
Boundaries
Children
Spirituality
And More!
You'll be more prepared to weather the trials that will inevitably come with balanced expectations and keen communication skills. Some couples are ready to go in just a few sessions, while others may choose to extend their counseling to go more in-depth.
Ann Taylor McNiece is now a certified SYMBIS Facilitator! Learn more about how the SYMBIS Assessment can help you and your partner launch into a lifelong love!
You've been married a while and things are going pretty well, but maybe not as blissful as you hoped. Take some time with an empathetic counselor who can help you fine tune the areas that are running a little rough. You take your car in for regular oil changes and tune-ups. Why not give the same care to your marriage?
You never thought you'd be yelling at the one you love the most, or locking yourself in the bathroom to get away--yet here you are, thinking counseling might be your last resort. Marriage is hard but it can be easier with the proper set of tools along with humble hearts and a desire to change. Let a skilled counselor help you find the root of your problems and put them in the past--no more yelling, chasing, or running away.